It's a good "soup" day, and I am making a big pot of cream of chicken and wild rice soup; even BETTER than Panera makes, if I do say so myself. My own recipe. We will be getting the remnants of the tropical storm today, and it is a chilly November day. So I thought I would post some pictures of other things I have been working on.
This is my first canvas work project. I bought the pattern last year on a trip to The Stitchers Corner ( remember Cindy?), and have just now begun stitching it. It's a design from Nancy's Needle called Amish Trip Around the World. I LOVE the way it looks, and is something different to work on. The colors will go so well in my bedroom.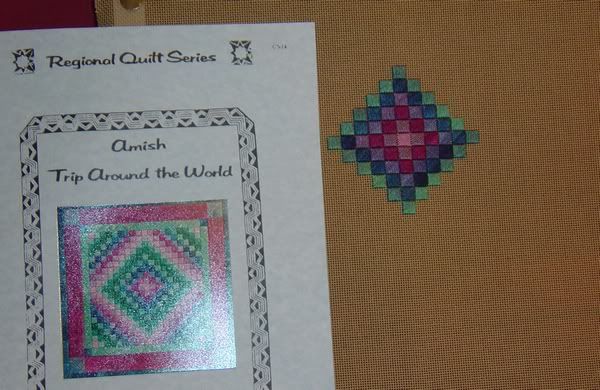 This one is going to be a birth annoucement for my new grandson .It's a Vervaco kit and I just love it. The other grandmother is a stitcher too, and is doing a jungle baby sampler ( which is the nursery theme). I was going to do one also, but decided to let her do that, and I will do this one that the parents can hang in their room, I think.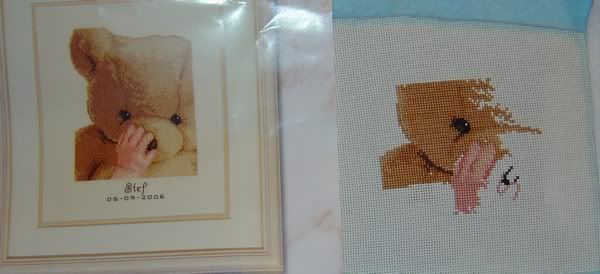 Here is a picture of some fabric I got to make a crib quilt for my grandson. I gotta get started on it pretty soon. I found this picture on the internet and will make it sort of look like this, but a bit bigger and slightly different fabric. Isn't it cute? I figured if I made it a bit bigger, he could use it even as a toddler and small child.
It will look kind of like this when done
I also knitted a little blue set of booties and a hat too, but I think I will hang up my knitting needles for this baby until NEXT winter!!!
Have a good weekend. Nikki