I haven't really been motivated to get much stitching done since the beginning of the year. HOWEVER, I found a project that I am really excited about. It's called The Sampler Book by Erica Michael.
Here is what it looks like
.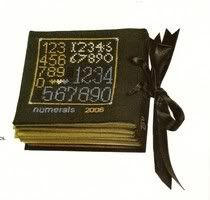 Here is what it will look like opened up
Each page is a different letter of the alphabet. The charts are free, from Rainbow Gallery here:
http://www.rainbowgallery.com/freechartdownloads.cfm?ID=11
I have been downloading the free charts throughout 2007, and now, with a group of stitchers, we are beginning the book. It will probably take me most of the year to complete just the stitching, and then it will need to be assembled. I am stitching it on 32ct Lugana, Ivory, with 2 strands of DMC.
Here is my first block, almost finished: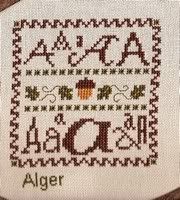 I have fallen in love with snowmen charts in the past few months, and have collected quite a lot since Christmas. I stitched one up as a "work break" project this past week. It was in one of the past issues of the JCS magaine, the October 2006 Preview issue. There is a companion snowman in the 2006 Ornament issue that I will do next, and make into ornaments for next Christmas.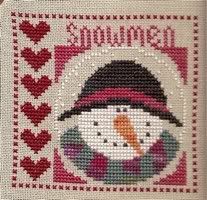 Tomorrow is my oldest grandson's birthday. Zachary will be 13 years old !!! Where did the time go. I will try to post some pictures of the day. I am making him his favorite fried chicken for his dinner, and a homemade chocolate cake with peanut butter frosting for dessert. More later. Bye for now.