Well I am back !! Gosh, I haven't posted since before Valentine's Day. I have really been bitten by the Genealogy Bug in the past couple of months. My grandfather on my dad's side had done that family back to 1600's France, and my mother's mother's side was done by a cousin of hers back to 1700's Norway. Now I am researching the other two sides, plus helping my son Jon do my husbands family. I bought some software called Legacy 6 to keep track of it all. I also joined Ancestry.Com which has been WONDERFUL. I am having a lot of fun with it all.
I have been sick this week with some kind of bug. It whammed into me Monday evening, and I slept till Weds afternoon, pretty much. I missed 2 days of work too. I still have this terrible cough, but hopefully will be gone soon.
As for my stitching projects, I started Ginger & Spices New England Sampler about a month ago. I am coming right along on it, and I just adore the colors in it. Here is a pic of my progress as of yesterday.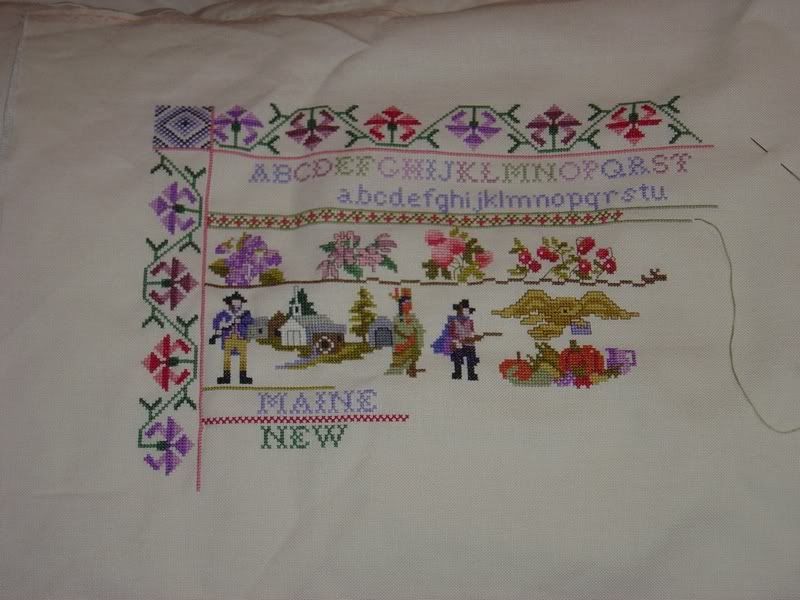 I also started a new project today. I couldn't resist. I have been ohhing and aahing over the Papillion Creations How Does Your Garden Grow SAL that she has going. I am doing the version with the Specialty stitches, and just LOVE how it is looking after just this morning stitching on it. I will try to post a picture tomorrow of that. I also kitted up the next 2 letters of the Erica Michael's Alphabet Blocks letter "E" and "F" and will get a start on those this week.
Spring is finally here, and I am SO glad. It was a rough winter. I bought two new dressers and a matching night stand for my bedroom, and am looking for a new couch and chair for my living room. Bob bought a new metal storage shed for outside. So we basically spent our Bush Economy Booster rebate before it even got here. Needed something cheery after the long winter.