I am going to finish up the Alphabet Tree today and then start my new project. It's called a Stitcher's Wallet. It is on a french Blog site, and is a SAL. You can see what it will look like here, and find out how to download the charts if you want to stitch it too:
http://tempusfugit.over-blog.com/categorie-10268584.html
Here is the fabric and threads I have chosen to use. They are 28 ct Ivory Jobelan and Caron Waterlillies silk thread in color Cherry. I took this picture outside, and for some reason the thread looks dark. It is very beautiful. I might use the floral as the back of the wallet, it certainly goes well, but not sure yet. It will be stitched over 1 thread with 1 strand of the silk. I can't wait to get started.
I bought myself a new DMC color card, and it has the actual floss on the card, not just a picture. I just love it. It will make it so much easier to change colors on a project, and see which colors match. Now why did I never buy one before??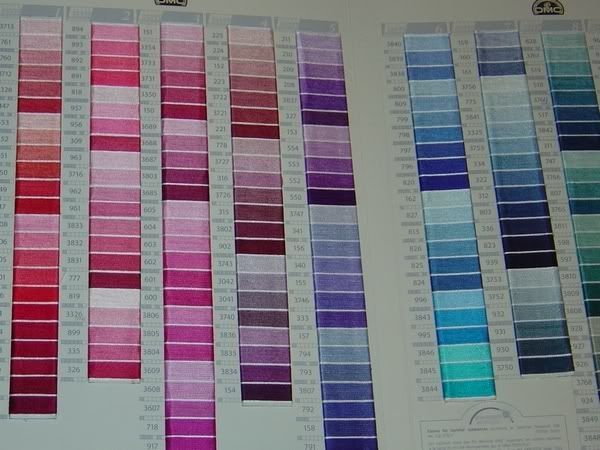 Part 5 of the Papillion How Does Your Garden Grow SAL is up on her site today. I have up to Part 4 completed, so can't wait to get Part 5 added. I will work on it this week during my lunch hours in the breakroom. I get a lot of stitching done there!!
I wanted to post some pictures that my youngest son Michael took of the area we live it last year, but our server is SOOOO slow this morning, I will wait until tomorrow. So check back...they are AWESOME pictures!
Nikki