It was a rainy gloomy and cold weekend. I was cold all weekend, and ended up in my favorite stitching chair, all covered in blankets, watching old movies on Turner Classics and stitching. I started a new Papillion design; another freebie that she put out a while back, called Serendipity. I decided NOT to do the specialty stitches on this one, like I am doing with How Does Your Garden Grow. I like the colors I chose. I am not sure what I will do with it, but am having fun stitching it, and that's what counts. Here it is so far: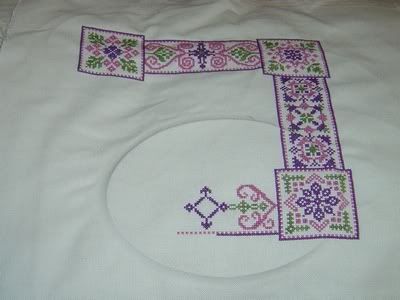 I thought it might be fun to show you my stash storage that I recently got at Target. It has 21 drawers that pull out and have lids on them. I keep my different WIP in a different one and can easily pull it out to work on. They fit nicely into my closet in my computer/ craft room. This is how it looks: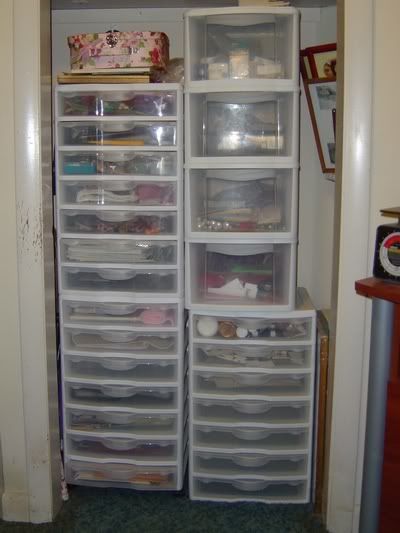 Then, in the same room, I have a book shelf that holds containers with my EXTRA DMC floss by numbers one of my two Jammers Boxes with a complete set of DMC, and magazine holders for charts and magazines. This is it: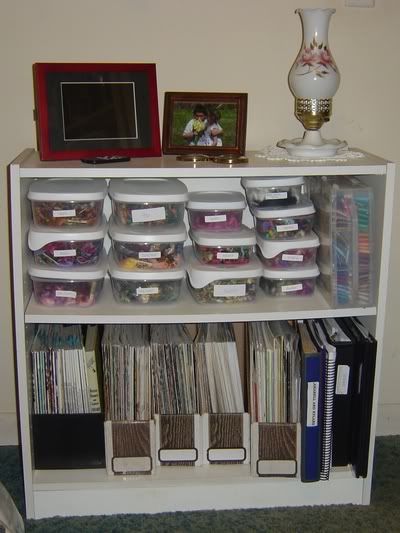 Then up on the closet shelf I have more magazine holders with MORE charts, and I have a built in bookshelf out in the hall with all my hardcover XS books. PLUS, I have plastic totes ( 3 of them) under the bed in the craft room, with all my fabrics, and a end table with magazine racks under it, and more WIP in plastic bags in there. I just cleared out my unwanted stash at the end of winter, so all this that is left is my NECESSITIES !!!! LOL
Hope you have a nice week, and get lots of stitching done. Thanks for stopping by.
Nikki