Happy New Year everyone ! A lot has happened in my life since the last time I posted to my Blog. My 81 year old mother has been very very ill since mid September. She lives in California, and I live in Maine. I flew out twice to be with her. My daughter went with me in October for 1 week, as well as my oldest son and his wife. My mother was still in the hospital at that point, in isolation, with a terrible Staph infection in her colon, which had spread to her blood. She was hospitalized almost 2 months total. I flew back out there right before Thanksgiving to help her when she was released from Rehab and came home. I stayed 3 weeks that time. I missed Thanksgiving with my family here in Maine, but cooked the traditional turkey and trimmings for my mother and sister in California. I came back to Maine 10 days before Christmas, and had to hurry and put up the tree, and shop for a few things for my grandchildren. It was a quiet Christmas, and I am tired, and worn out, and trying to get back into the swing of things again.
I did do a little stitching while I was on the west coast. I stitched these 3 snowmen from designer Mount Forrest Frameworks. I love snowmen, and think these are adorable. I will finish them off as ornaments for next Christmas.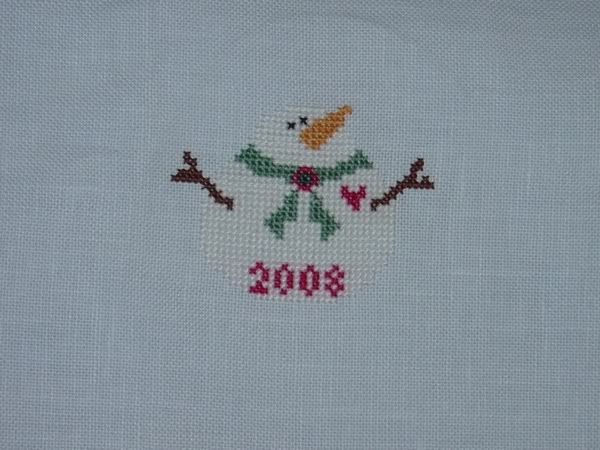 I have decided to take a bit of a break from cross stitching for now. I decided to crochet an afghan for my oldest son for next Christmas. It is a ripple afghan done in 3 shades of blues and white. I will post pictures of my progress on that, but right now just have a few rows done.
I am cooking a turkey for New Years day dinner, as my family never got one for Thanksgiving. I made a apple pie first thing this morning for dessert. Have a safe and happy New Year.
Nikki