Well, I managed to get projects finished this week, despite a hectic week. Our cat Punkin scratched our dog Comet on her eye, scratching her cornea and puncturing her eyeball!!! My poor baby!!! Bob took her to the VET, and we have some antibiotic ointment to put in her eyes for 2 weeks, then she needs to go back for a recheck. It isn't clear at this point whether or not her vision will be affected. And, we are having another snow, ice, sleet and freezing rain, storm tonight. Winter just keeps on going!!! It is February though, so not too much longer and spring will be here.
My first finish is the Val's Place Snowman ornament from the 2006 JCS Ornament issue. I made it as a companion piece to the other I made from the 2006 Preview issue. I didn't have a star for his hat, so glued on a snowflake charm I had!!
The 2nd finish is the ornament from Milady's Needle that I completed at work this past week.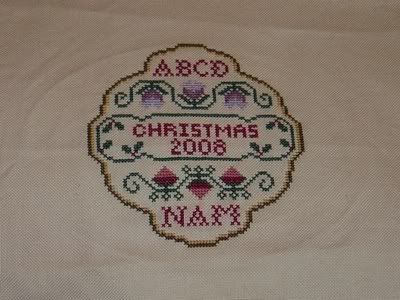 I am going to work on some Valentine quickies this weekend I think, and get a basket, and make little pillows with them to display for Valentine's Day. I am not much into football, so probably WILL NOT watch the Superbowl. We are going up to Bangor this Sunday to visit my oldest son and his family, and go to the Planetarium at the University at Orono, and see a show. I will take the 2 grandkids too.