Today is just a gorgeous summer day, just PERFECT weather. No humidity, a slight breeze, and temp's in the upper 70's. I managed to get some stitching done this week, despite the nasty heat and humidity of last weekend. We did buy a air conditioner for our bedroom, so that helped some. What a relief to have the humidity gone for awhile though.
I finished my American Soldier Memorial Project, and here it is. Andrew was from Wiscasset Maine, my home state. He was just 19 years old when he was killed in Afghanistan. I have spoken with his mother, and she told me how proud she and her husband are of their son. He was killed while providing cover fire so that some of his fellow soldiers could get away safely. He was wounded, and hit in the back with shrapnel, but kept firing until his gun had no more ammunition. He was a true hero, and was awarded the Silver Star. If you would like to see Andrew, and read about him, this site has articles about him
Click Here To see Andrew
I think I will stitch another piece soon, as I have gotten such satisfaction doing this one. I framed it simply, in a black frame. I will be mailing it to his mother next week. I sure hope she likes it.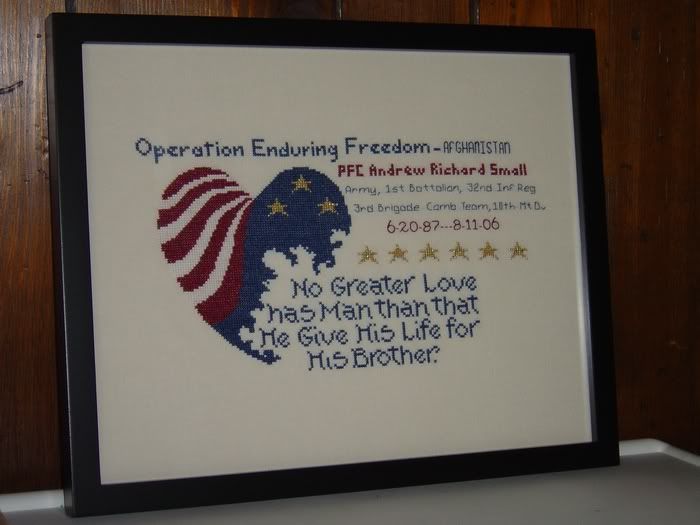 And here is a picture of Andrew R. Small
Here is my progress on New England Sampler this week. I just love the colors. It will take me awhile to get it finished, but it sure will be worth it.
Have a great weekend.
Nikki