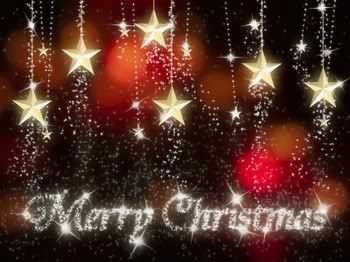 We managed to squeak out some white stuff for Christmas here in Maine. We have about 3 inches of snow on the ground.
I got two great surprises this Christmas. First, I got a card from a nice lady I used to be Pen Pals with over 20 years ago. She lived in TN and I here in Maine, and we wrote letters back and forth and exchanged pictures of our small children, and were great friends. I lost touch with her, and she took a chance and sent me a card. I am so glad we are back in touch Mary, and look forward to writing to you again.
The second surprise is that I got the chart I have been wanting to stitch, Remember Me. ( see post below). I had given up hope of ever finding it, as it was only printed by Little House Needleworks in a limited edition for Breast Cancer month for Elegant Stitch. Lauren, a very lovely lady on the 123 Stitch message board sent me her original chart as a surprise Christmas gift, and it arrived on Christmas Eve day in the mail. THANK YOU LAUREN.....I love it.
You want to see MY Christmas gift to myself?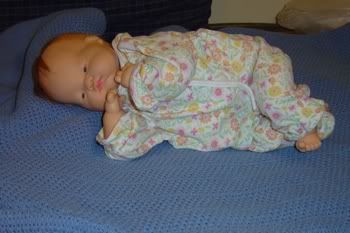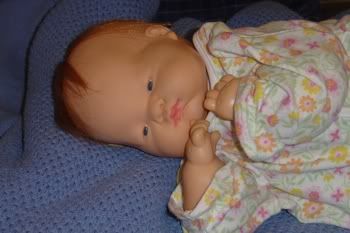 This doll was made by Vogue in 1960 and is called Baby Dear. It was designed by Eloise Wilkins who was a wonderful illustrator for children's books. I HAD this doll when I was 10 years old. I have been looking for years to find one on Ebay that I could afford, as they go for a lot of money. I finally found her !!!! She arrived on Christmas Eve. Now I can make some newborn clothes for her to wear.
It is a quite Christmas morning. I had a nice cup of coffee and a Cinnamon Roll from Panera. We are awaiting all the family to come over a bit later for gifts and a Ham dinner. More Christmas pictures to come later.
MERRY CHRISTMAS everyone. Enjoy your holiday with friends and family.
Nikki