Yummm, I made a batch of blueberry muffins tonight after supper. They are made with wild Maine Blueberries i bought at a farm stand near here. The wild ones are soooooo much better than the huge cultivated berries. I will have a nice cup of tea later with a muffin, and I will have another for breakfast tomorrow too!!!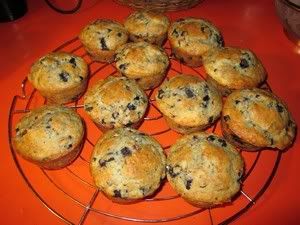 I am planning a 3 day mini vacation next weekend to New Hampshire with my oldest son and his family. We are going to Kahuna Lagoon Water Park in North Conway. Here is my cat Punkin helping me plan the route on the map. LOL Isn't he a lot of help !!!
Here is a link to the water park if you would like to see what it is like:
http://www.kahunalaguna.com/
I hope to have a relaxing few days, sitting by the pool at the hotel, splashing with my 17 month old grandson at the water park and swimming with my 11 year old grand daughter. The last time I took any days off was 16 months ago when my mother passed away, so I deserve a break.
Nikki