It was a quiet Labor Day here. Not feeling too well, and VERY humid today, but enjoying having a 3 day weekend for Labor Day.
Hurricane Irene came through here 1 week ago, but it had lost it's punch considerably by the time it got to Maine. And guess what....I wasn't even here during the hurricane. My oldest son Jon and his family, and my granddaughter Kaleigh and I had a trip to New Hampshire planned for a couple of months, and we weren't going to let something like a hurricane stop us!!! Seriously, we watched the weather several times a day to see if we should cancel, and knew it wouldn't be so bad, so went anyway. We drove over to NH on Saturday morning, and came home Monday afternoon. On Sunday ( the day the hurricane hit) we were in the wave pool at Kahuna Laguna, which is an indoor water park in North Conway NH. I didn't get any pictures of that, and it was pouring rain outside and very windy, but the hotel had a shuttle bus to the water park and back again, so we had a great time. The only pictures I took were the next morning (Monday) after the hurricane passed during the night, and it was sunny and bright and breezy, perfect weather. Here are a few pictures of how beautiful it was there in the mountains of New Hampshire.
Kaleigh eating her dessert from our restaurant dinner a few hours earlier. She ate every bite too!!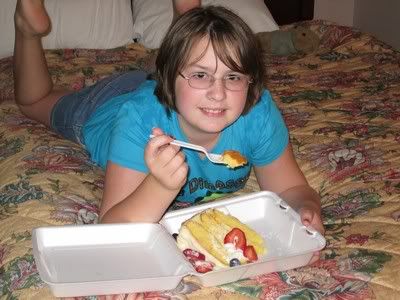 Outside of our room...see not much damage at all from the storm the day before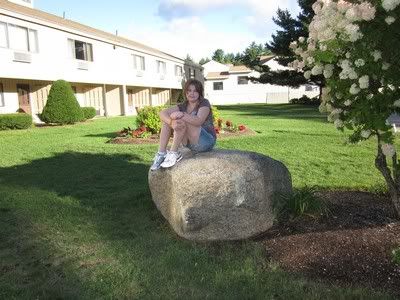 Another view of the grounds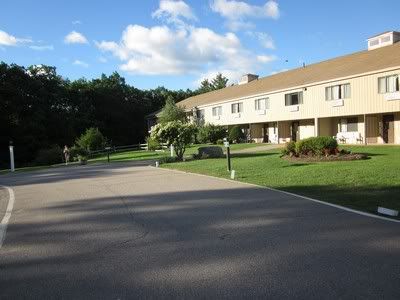 And here is my favorite, Kaleigh sitting on a bench enjoying the beautiful mountains of New Hampshire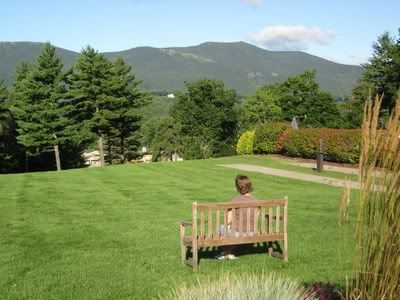 I haven't done any stitching in a while...it has been too humid lately, but fall is around the corner and I will get back to posting more pictures of my work.
Nikki